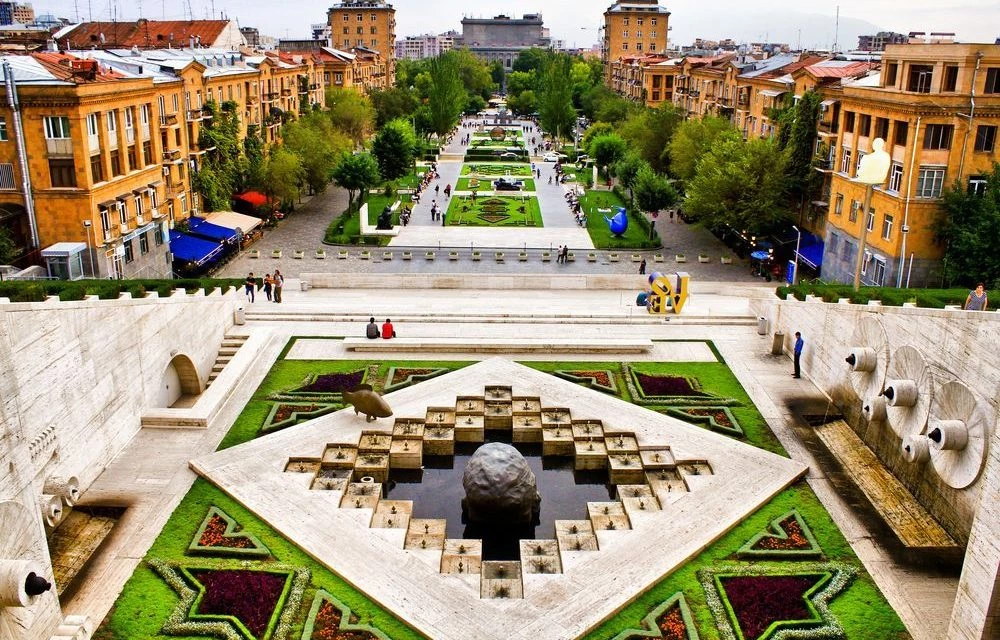 Traveling to Yerevan
24/09/2022
Yerevan is the capital and largest city of Armenia, located in the northwest of the country. The city has a rich history dating back to the 8th century BC and is often referred to as the "pink city" due to the unique rose-colored tuff stone used in many of its buildings.
One of the most famous landmarks in Yerevan is the Republic Square, a large open square surrounded by government buildings and other important structures. The square is also the History Museum of Armenia. You can visit also the Armenian National Academic Opera and Ballet Theatre.
Another must-see attraction in Yerevan is the Cascade, a massive stairway that leads up to Victory Park and provides a panoramic view of the city. Along the way, visitors can also stop at the Cafesjian Center for the Arts, which houses a collection of contemporary art and sculptures.
The city is also known for its vibrant nightlife, with many cafes, bars and nightclubs to choose from. One of the most popular areas to go out at night is the Northern Avenue, a pedestrian street lined with shops, restaurants and cafes.
In addition to its historical and cultural significance, Yerevan is also an important economic and industrial center in the region. The city is home to a number of large companies and factories, as well as several universities and research institutes.
Overall, Yerevan offers a unique blend of ancient history, modern culture and stunning architecture. It's a perfect place to visit for those interested in history, art and culture, or simply looking for a new and exciting travel destination.
In order to enjoy your time in Yerevan without being weighed down by your luggage, it's important to find a safe and convenient baggage storage or left luggage option. Here are a few options to consider:
Hotels
Many hotels in Yerevan offer luggage storage for their guests, either for free or for a small fee. This can be a convenient option if you're staying at a hotel in the city center.
Luggage storage facilities
There are several luggage storage facilities in Yerevan that offer short-term storage options for travelers. These facilities are typically located near major tourist attractions and transport hubs and can be a good choice if you plan to explore different parts of the city.
Airport
Zvartnots International Airport has a left-luggage service, where you can leave your luggage for a short period of time and pick it up before your departure.
Luggage storage services
There are a few companies that offer luggage storage services in Yerevan, they can provide you with a safe, secure, and convenient option for storing your luggage while you explore the city.
It's important to read the reviews of the service and check for the prices and hours of operation. Storing your luggage in a safe and secure location will allow you to fully enjoy your time in Yerevan without worrying about your belongings.