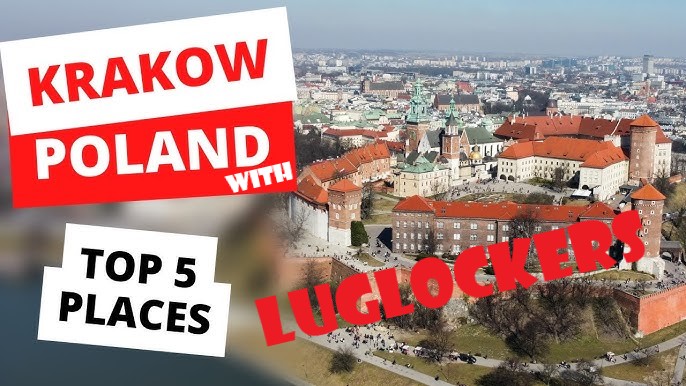 Exploring Krakow: Unveiling the Best of Poland's Timeless City
31/07/2023
Welcome to Luglockers, your trusted luggage storage partner worldwide. As you embark on your journey to the captivating city of Krakow, we're here to ensure you experience the charm and beauty of this historic gem without the burden of carrying heavy bags. In this blog, we'll unveil the best places to visit in Krakow, allowing you to immerse yourself in its rich history, cultural treasures, and vibrant ambiance.
The Enchanting Old Town:
Step into a fairytale as you wander through Krakow's enchanting Old Town. UNESCO-listed, this medieval quarter is brimming with picturesque squares, cobblestone streets, and Gothic architecture. Marvel at the iconic St. Mary's Basilica and the Renaissance Cloth Hall, where centuries-old traditions blend with modern-day delights. With Luglockers' convenient luggage storage nearby, you can freely absorb the essence of this charming district.
Wawel Castle and Royal Cathedral:
Uncover the royal past at Wawel Castle, perched atop Wawel Hill. Discover the opulent State Rooms and trace the footsteps of kings and queens in the royal chambers. Adjacent to the castle lies the Wawel Cathedral, a masterpiece of Polish Gothic architecture. Its grandeur and historical significance make it a must-visit site for history enthusiasts and art lovers alike.
Kazimierz - The Jewish Quarter:
Delve into Krakow's Jewish heritage as you explore Kazimierz. This bohemian district exudes an artistic vibe with its trendy cafés, galleries, and street art. Visit the Remuh Synagogue and discover the moving history of the Jewish community. In the evening, soak in the lively atmosphere of the district's bustling nightlife.
Schindler's Factory and the Ghetto Heroes Square:
Pay tribute to the city's tumultuous past at Oskar Schindler's Factory, now a poignant museum. Walk through the interactive exhibits that recount the stories of those who lived through the Holocaust. Adjacent to the factory stands Ghetto Heroes Square, a powerful memorial commemorating the Jewish victims of World War II.
Vistula Riverbank and Wistula Boulevards: